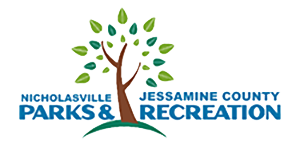 About Nicholasville Jessamine County Parks & Recreation
The Nicholasville/Jessamine County Parks & Recreation Department is funded by the City of Nicholasville and Jessamine County Fiscal Court. The Parks and Recreation Department operates recreational and cultural programs and maintains more than 15 parks, consisting of 250 acres. The department helps maintain the parks, aquatic center, ball fields, fishing lakes and walking trails. The department is responsible for programs and services to improve the quality of life for all.
Endowment Fund Accounts
The Nicholasville/Jessamine County Parks and Recreation Endowment Fund accounts for gifts, donations, and endowments of a permanent nature, whereby the donation principal is invested, and interest earnings are available to support programs and services as directed by the funding donor. Contingency Requirement – There are no minimum or maximum requirements for the fund. Disposition of Funds – In the event, the fund is closed, all remaining resources shall revert to the general fund.
For more information about Endowment Fund, please contact Serita Taylor.
Volunteer Opportunities
We will be posting about volunteer opportunities soon!
STAFF CONTACT INFORMATION
Isaiah Sparks – Athletic Supervisor
Adult & Youth Basketball, Adult & Youth Volleyball, Pickleball, Adult Softball
(859) 699-3396
Send an Email
Kelly Mason – Maintenance Worker
Tommy Wiggs – Maintenance Worker
Lane Crank – Maintenance Worker
Jessamine County Youth Sports Contact Information